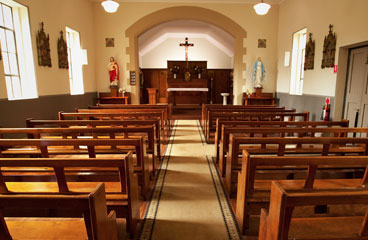 In 1900-01 the NSW government resumed the entire Rocks area at the time of a serious outbreak of bubonic plague in Sydney. While The Rocks was only moderately affected by the plague, the government used the climate of fear and anxiety to gain control of the area. The hidden agenda was a desire to demolish large pockets of slum dwellings in The Rocks and initiate a total scheme of urban reconstruction. St Michael's church and St Joseph's Providence were resumed and eventually demolished. On the other hand, exemptions were granted to St Patrick's church, St Bridget's church – school, and the nearby Anglican Garrison church.
From 1901 St Bridget's was fully incorporated once again into St Patrick's parish, and was serviced as a chapel of ease by the Marist priests at St Patrick's. At the same time, with the departure of the Josephite sisters from the area, the Sisters of Mercy took charge of St Bridget's school.
In 1933 an upper storey was added to St Bridget's, and at that time the present spelling (St Brigid's) came to be adopted. Father Daniel Hurley SM was the parish priest. The upper storey construction allowed the original ground floor building to be used exclusively as a chapel
From 1974 the Marist Sisters have ministered as pastoral assistants to the residents of Millers Point, based at St Brigid's. Sr David Fitz Maurice was the first Marist Sister appointed to this work, followed in recent years by Sr Gemma Pearson.
Recent Years
St Brigid's celebrated its sesquicentenary (150 years) in 1985. Only seven years later, in 1992, the school closed because of falling enrolments, but Mass continues to be held at St Brigid's each Sunday.
St Brigid's was closed for several months during 2002 to allow for interior restoration. Further restoration work took place in 2003 and an ongoing programme of maintenance and conservation will ensure that this historic chapel is preserved for future generations
Text: Peter McMurrich sm